Reclaim Your Authenticity
Written By: Jasmine Newton
Have you ever felt the weight of the world's expectations pulling you in a thousand directions, leaving you questioning if you're ever enough? What if I told you that you are more than enough – just as you are? Would you believe it? Better yet… if you have already been told you are MORE than enough… Did you actually believe it? Be honest.
Did it feel like one of those woo-woo things that people say to get a quick feel-good moment and once the moment passed, you don't really feel like… enough? Why is that? If I'm being honest… your worth extends far beyond society's measuring tape, encompassing every ounce of your unique brilliance, intelligence, creativity, and everything that makes you, YOU.
Being enough isn't about being the best you can be and always being positive… it's about embracing who you are… at your core… completely. It's about knowing you're enough, even during your thriving days, bad days, and lazy days. It's about looking in the mirror and unconditionally loving everything you see. Yes, I'm talking about the "flaws" too. Are they really flaws though?
I've gone through the never ending maze of societal expectations that tried to define my worth. But here's what I've come to realize: our worth isn't determined by external standards; it resides in our authentic selves. Learning this has helped me in so many ways and it is my intention for this to help you too.
To inspire, uplift, and fill you up with a newfound appreciation for who you are and how freaking amazing it is that you exist. That is why I'm putting on an exhibition! "Reclaimed Spirit" – an empowering exhibition that celebrates the strength and resilience found within our stories.
"Our worth isn't determined by external standards; it resides in our authentic selves."
I'm collaborating with amazing artists to create an artful blend of photography, video, music, and poetry. Picture this: Four extraordinary women sharing their journeys of self-discovery and self-acceptance. Each story is a powerful reminder that we are enough – and more. We'll hear tales of triumph over adversity, navigating the ups and downs of life with grace and resilience. And you may recognize one of them!
But let me be clear: this exhibition isn't a beauty pageant, nor is it about proving our worth to the world. It's about recognizing our intrinsic value, irrespective of how society labels us. Intelligence, creativity, kindness, and a myriad of other qualities make us worthy – each thread woven into the tapestry of our souls.
Now, you might wonder, "Jasmine, How do I break free from these suffocating expectations and embrace my true self?" It starts with self-compassion and self-awareness. Acknowledge that you are a work of art, a masterpiece in progress. Embrace your quirks, your passions, and your dreams, and hold them close to your heart. Show love and appreciation for everything that makes you, YOU. Yes… that even means the things about yourself that you aren't so excited about. Even if you are working to change them, they serve a purpose and have been an important part of your journey. That's what my exhibition is all about.
"Reclaimed Spirit" invites you to celebrate yourself and to bask in the joy of being enough. We will each be moved, inspired, and united by the incredible stories of four remarkable women.
Let's unapologetically embrace our authenticity, uplift one another, and celebrate the magic that dwells within us. You are enough, sis, just as you are. You are deserving of love, acceptance, and fulfillment. You are an unstoppable force of brilliance, and the world is blessed to have you. I hope to see you at the exhibition.
With love and empowerment,
Jasmine Newton
To learn more about Jasmine and her work in women's empowerment through her lens – check out her two-episode interview on the She Speaks Podcast: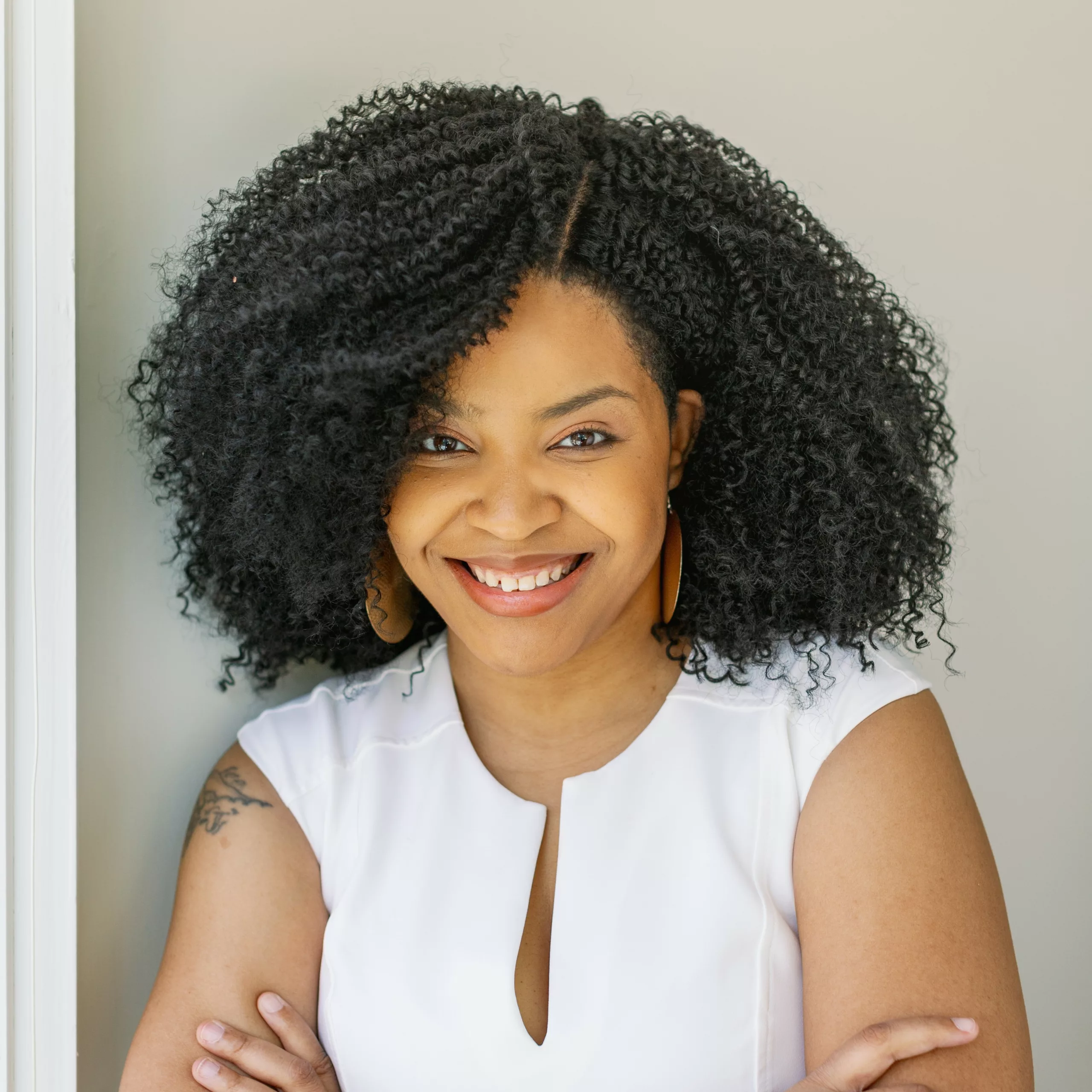 About the author »
Jasmine Newton
Jasmine Newton, owner of Javon Renee Portraits, is a luxury portrait photographer based in Knoxville, TN. Specializing in branding and legacy portrait experiences, she is dedicated to empowering women through her lens. Originally from Chicago, IL, Jasmine founded her business in June 2015, after recognizing that the corporate ladder was not for her. She is passionate about teaching fellow photographers and other creatives, helping them to discover their worth and take their businesses to new heights. Jasmine is also actively involved in her community as the leader of the Knoxville chapter of the Rising Tide Society, a member of the Mayor's Maker Council, and Summit Chair for the Maker City Summit. Her mission is to showcase the true essence of her clients and provide them with a beautiful portrait experience that promotes self-confidence, legacy and self-love.
Share This Story, Choose Your Platform!
Since starting Let Her Speak a little over 5 years ago, one question I get asked over and over is what prompted me to start a movement. The background and explanation for my "why" is too complex to answer in a short sound bite. So a few years ago I started telling people that I founded the organization for six reasons and would then proceed to only provide one of those reasons in my answer.
I created Loveliest because I wanted brides to have a uniquely memorable experience during one of the most important seasons in their lives. I wanted each bride to have an oasis where she could intentionally find "the dress" worthy enough for her wedding, one that made her feel not just lovely, but her Loveliest.
Recently, I was chatting with someone who just graduated from high school. It was clear that she is frozen with the choices that face her. Should she go to college? A trade school? Get a job? And what if she doesn't like what she chooses, isn't she stuck with it forever?