Resiliency Regained: What I Learned from Six Months of Accidental Depression
Written By: Courtney Pinkerton
This has been a big year for our family. After years of searching for a place to put down roots, last summer we purchased a dream property in North Carolina. The renovated farmhouse, heirloom apple trees, ample garden and chicken coop spoke to me from the moment I saw them.
When we first moved in I was besotted, stumbling around like someone in a Rumi poem soaking in the mountain views and the beauty of the land. I was itching to get started with our tiny farm adventures so my youngest and I bought a pair of enormous breeding bunnies and, even though it was almost too late in the season, I couldn't resist planting tomatoes and basil in the overgrown beds. My heart swelled at the thought of next year's garden filling my home with fresh produce and flowers.
I had a lot to be grateful for. My children were healthy and my husband was happier in his work than he had been for a long time. My coaching practice was full of clients I enjoyed and now, after a lengthy search, we had room to stretch out.
Life felt expansive and full of possibility. A coach I was working with called this feeling "playing the game of how good can it get."
The first time I remember noticing that something was off with my mental health was when my daughters and I traveled to catch a cruise with my parents in June. My girls, age 12 & 14, and I were all looking forward to the trip but when we walked into airport and saw it packed with people, I felt my tension shoot up dramatically.
I'll spare you the full story of the challenges we navigated, involving an overweight suitcase, testy airline staff and extra fees. As the clock ticked toward departure and we faced another huge line at security, my anxiety ramped to hyperdrive. Thankfully, we made it through and on our flight.
While airports are notoriously stressful places, I sensed something was off internally. The level of stress I felt seemed to outpace the actual situation. I love to travel and have met long lines and unexpected bumps before. In fact, I credit two years of slow and often unreliable transportation in rural Nicaragua during the Peace Corps with forging my general travel outlook: stay flexible and open to serendipity.
But this time was different. I wasn't able to access those inner resources and felt as if I had lost any capacity to buffer stress. While I thought it was weird at the time, I chalked it up to the isolation of the Covid years and assumed I had just lost my travel edge.
I have always been sensitive: an empath, highly sensitive person, and INFP on the Myers Briggs. After an experience of burnout in my early thirties, I built up a toolbox of resources like tapping, meditation, and chi-gong that help me metabolize stress. I also immersed myself in Enneagram trainings that over years, taught me how to soften my Type 3 habits and to find freedom from inner pressure and overworking.
My wellness team included a therapist, coach, integrative health doctor, massage therapist, chiropractor, and an energy medicine practitioner. With all these supports in place, I had gotten to a point in my life where I felt content and even joyful much of the time.
But over the summer, my anxiety bloomed. Our home was pretty chaotic for months after the move and I was struggling with almost daily migraines, probably a combination of the heat and upending of daily rhythms. And that same feeling from the airport, like I had lost my stress tolerance and any sense of perspective, continued to grow in every facet of my life.
I remember saying again and again, "Why is this so hard?" I started talking to my therapist and my doctor about the challenges I was facing. No one had a simple answer.
They thought the move was rocking my inner equilibrium or maybe that, at 46, my hormones were changing. From the outside, I don't think it looked like I was struggling as much as I was. Or maybe it is just hard to convey when you feel like the ground is slipping away underneath you.
"A good half of the art of living is resilience."
– Alain de Botton
Unfortunately, as we transitioned into Fall, things only got harder. I didn't have much energy for my business and my income lagged, adding another stressor, especially in the face of unexpected new home expenses. I was fuzzy headed and started to have a hard time remembering words, which freaked me out.
My inner critic was reanimated. For the first time in a long time, I found it hard to be in my own company. I became very careful about how I used my energy because I had so little of it.
I was frustrated and felt like I was doing ALL the things to support myself but was just barely staying afloat. It was a brutal combination of feeling extra sensitive to the stress in the world and like I had no inner space safe from my own criticism.
Despite all the support at my disposal and the resources I had accumulated, I continued in this downward slope for almost six months. At some point along the journey, my primary care doctor suggested medication for anxiety, which I tried. It helped somewhat but did little to shift the underlying pattern.
I felt like some big wave had knocked me down and I couldn't get back on my feet. Then, one day over the winter, the neurologist I see to treat my migraines mentioned in passing that a preventative medication I was on could cause mood problems.
Apparently, for most people it is a mood stabilizer but for some it can cause anxiety and depression. I knew instantly. This is it. This is what is happening to me. I had started the medication in May, shortly before my challenges began.
After this realization, everything started to improve. We had already discovered a different medication for the migraines. (Ironically, the medication with the painful side effects didn't even bring much benefit.)
With my doctor's approval, I tapered off of it over the holidays and almost immediately started to feel better. This feeling has only grown, like the sun emerging from behind the clouds.
"For the first time in a long time, I found it hard to be in my own company."
I can't help myself from giving my husband daily mental health status reports. I share updates like a little kid holding out a feather, special rock or other found treasure: "I feel better!" I tell him. "I have energy and feel hopeful!"
Then, not that long ago, my laugh came back. We were out with new friends at the end of a stressful day. Torrential rains had flooded our basement.
Thankfully we don't have carpet and nothing was damaged. Our teenage kids, my husband and I worked together to redirect the water back into the gully leading to the creek and to soak up the mess. Once things were pretty much under control, we were in even more need of a date night.
As we settled into the evening, our friends shared funny stories of how they met. My own easy laughter, there in the pizza parlor booth with live music and steam filling the air, was the return of something precious. It was made even sweeter as I realized that I could be so open to joy just hours after a near home disaster.
Something lost that I didn't know how to find again, found me: resiliency.
This whole experience challenged an illusion of control I didn't realize I held. The belief that I could wrap myself in enough supportive measures to keep out the sharp edges of life.
Despite my many privileges and access to both mainstream and alternative medicine, I couldn't avoid six months in the underworld. It was humbling and gave me a visceral experience of the fragility of mental wellness. Given the right circumstances, each of us is vulnerable.
I'm not naturally patient but I am trying to be patient as I regain my momentum and am full of tender appreciation for the gift of mental health and the foundation it provides for everything else. I also feel compassion, both for the earlier version of me and for everyone struggling similarly, which is a lot of us. According to the CDC, anxiety disorders are the most common mental illness in the U.S., affecting 27.3% of American adults, and that percentage is higher for adolescents, women, and the BIPOC community.
"Something lost that I didn't know how to find again, found me: resiliency."
When things were really hard, I found two things helped me the most, in addition to all the therapeutic and professional help I've already mentioned. While they weren't enough to keep me from struggling, these practices did provide solace and encouragement even in the difficult times. And as I emerge from this experience, I realize I have more to hold and sustain me going forward, because of all the good they grow in my life:
1. Conversations with friends, especially going for walks together. This is an obvious one but, as a mom of three, I have to be intentional about nurturing these relationships and they really comforted me during the heavy days. Friends helped shine the light on my gifts and possibilities for the future, when I felt unable to appreciate myself or see the way ahead. They reminded me who I am, when I felt like I had lost myself. I let their love in, when my own self-kindness was elusive.
2. Attuning to natural cycles. When everything felt chaotic inside me, I found a holding container in the natural world. I took comfort in daily walks and paying attention to the subtle shifts in the weather, plant and animal life. I also started paying more attention to my menstrual cycle and learned to appreciate the extra lift near ovulation and to expect stronger emotions and inner criticism ahead of my period. On a deeper level, surrendering to cycles gave me hope by reminding me that life is variable. This made me feel less stuck and a tiny bit curious about how things might change (and hopefully get better) in the future.
About a month ago, I shared this story with my mom, who has also struggled with depression. She suggested that it must be hard to know that there was something so specific that caused my struggles and that the whole thing could have been avoided. "Yes and no," I answered.
I was definitely angry at my primary care doctor who prescribed this migraine prevention medication and didn't recognize the side effects but instead prescribed more medication for the troubles caused by this one. (We had to have a clearing before I could keep working with her. She actually apologized, which I appreciated.)
And I have learned a serious lesson about how we have to be our own advocates in the healthcare system and will DEFINITELY research side effects going forward and keep my eyes open for anything unusual.
I do sometimes grieve the loss of those six months and the happiness that had alighted on me in the wake of our move. But I also realize for most people depression is not something that can be so neatly "switched off" or explained.
Moving forward, I want to claim the benefits of this experience. For example, when I was so low on energy and motivation, I got a lot of practice prioritizing what is most important to me. Now as my energy is returning, I find it easy to know where to direct it to double down on my deepest commitments.
I'm writing more. I'm leaning into nature-based remedies both for my own mental health and to share with others. I'm learning more about climate action and how I can best get involved. And joyfully, alongside my family, I am planting this year's garden.
Wondering why our colors are different for this article from our main brand colors?
You can read all about our unique 4-season color palette on this page.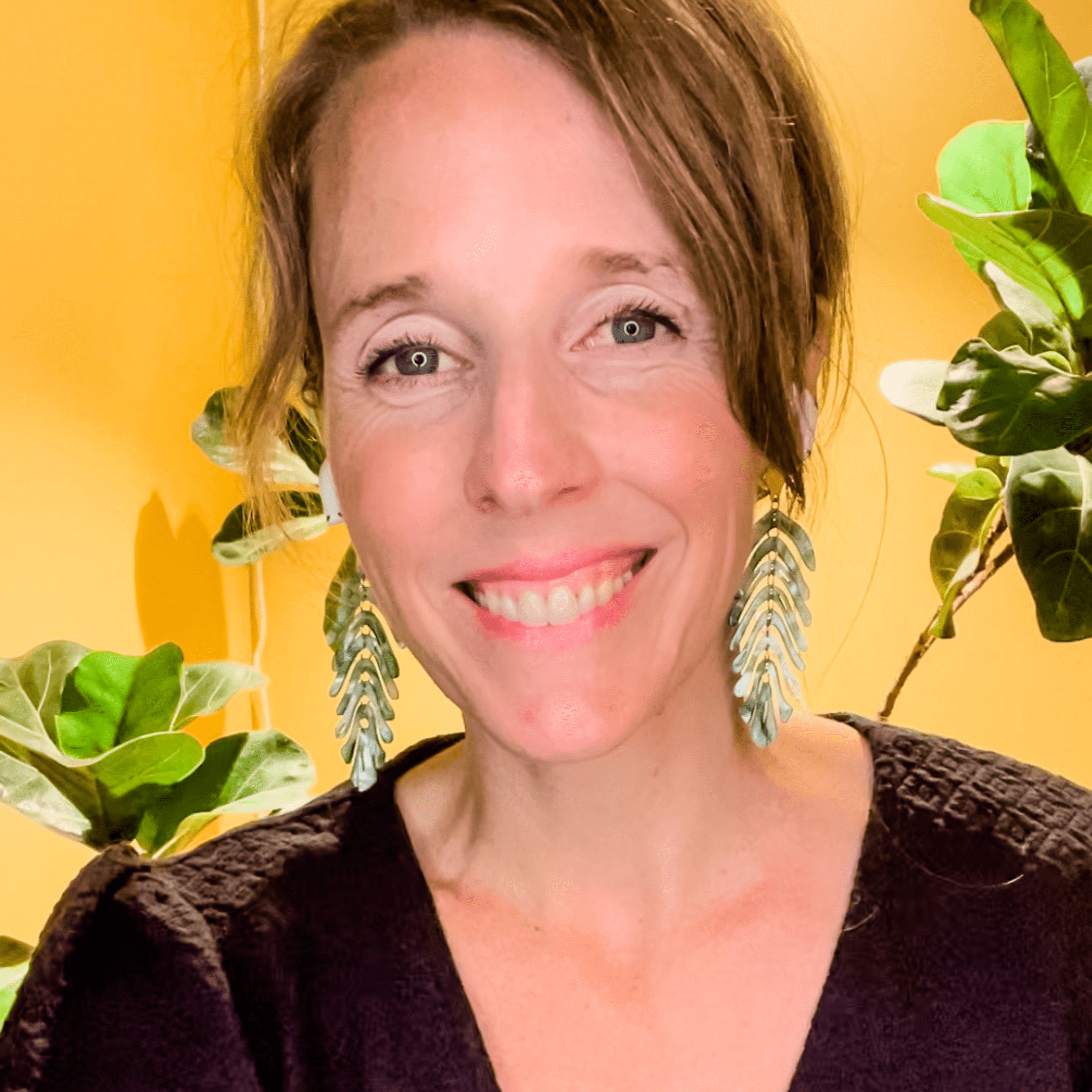 About the author »
Courtney Pinkerton
Courtney Pinkerton (she/her) is a Harvard-trained life coach and the author of the Amazon bestseller, The Flourish Formula: An Overachiever's Guide to Slowing Down & Accomplishing More. She is the creator of Sunshine in a Bottle, an online learning program that combines nature & coaching resources to boost resiliency and avoid burnout. Courtney lives with husband & three children on Apple Balm Tiny Farm in North Carolina. You can follow her tiny farm adventures on IG @courtneypinkerton or visit her website www.courtneypinkerton.com for more resources on personal & planetary flourishing.
Share This Story, Choose Your Platform!
I wrote 'Good Thoughts for Bad Times' for Mental Health Awareness Month. Even the smallest flicker of a good memory can bring a bit of hope to some of my darkest days. In my songs there are recurring themes of loving others, loving yourself, and mental health.
A few months ago, a group of women came together to discuss plans for the 2023 Let Her Speak Women's Summit. Lots of new ideas were shared both from women who have attended the event in the past and those who were new to the Let Her Speak community. One idea that was shared was from our friend, Erika Biddix of Aught. She mentioned an activity she participated in at a conference earlier in the year that involved a collective story written by the attendees of the event.
The act of letting go is an act of self-care but more than that, it is one of survival. Conserving negative emotions like hatred, bitterness & resentment related to past trauma or unforgivable betrayals not only prevents you from thriving in the lifestyle you deserve, but it can actually manifest into life-threatening health issues.