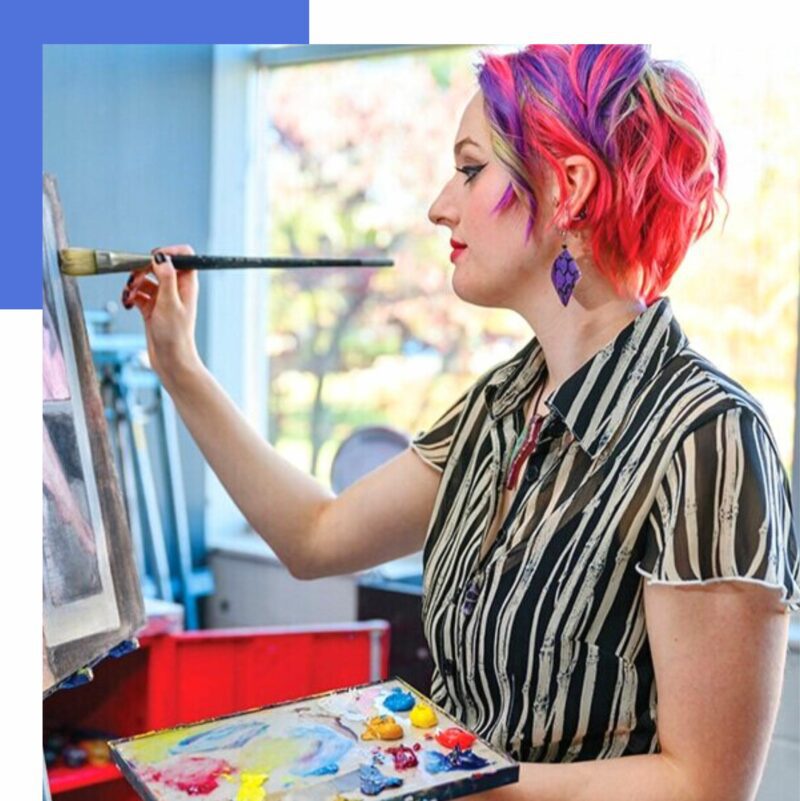 OUR HISTORY, OUR VOICES PROJECT
The Katrina Julianne Scott Exhibit
I was taught from a young age that women were meant to be quiet and pleasant, never loud or angry. When I reached college, I encountered men who took advantage of that mindset and of my naivety. I soon found other women who shared those experiences, and felt a similar sense of frustration towards the narrative expected of women.
As I explored that frustration, I realized that many women were never taught how to express anger, only mild frustration. In this project, I wanted to explore the nature of women's anger.
For many of us, it starts out timid and fearful, like the hare. That timidity bleeds into a feeling of uncertainty, like the alligator eyeing its attacker. Uncertainty makes way for fury as instincts kick in, just like the wolf lashing out in self-defense. Finally, a sense of calm washes back over, as the snake sheds her skin.
These paintings are a part of a series I completed last year as a URECA creative project grant through my school, MTSU. The project is now a part of my Honors senior thesis exhibition that I am presenting this semester in preparation to graduate!
My project was recently featured in the MTSU research magazine, and you can read all about it here:
Thank you for reading.
I am an engineer with over 25 years of experience in manufacturing, operations, strategy, and innovation most recently serving as the Chief Innovation Officer at Aperam, a multi-billion/yr global manufacturer of stainless steel and specialty alloys. I went from being laughed at when I told professors I wanted to pursue a Ph.D., to leading hundreds of scientists around the world.
I'm Shay Coope, shop owner of P.S. With Lovee. I am a Licensed Master Social Worker, mother to a beautiful little girl, wife to an amazing husband, and lover of all things colorful! To me, being a woman means being a complete badass! We are strong, nurturing, amazing multitaskers, and true advocates of what we believe in.
When I read the prompt, I knew I wanted to do a food recipe that reflected how strong my mom is. Strength can be shown in different ways and one of those ways is through adaptability and making the best of what you have. My mom has always inspired me to be a better person and an even better baker. I created Girls Gotta Eat Good Asian Bakery because she taught me to love food and to share that love with everyone.