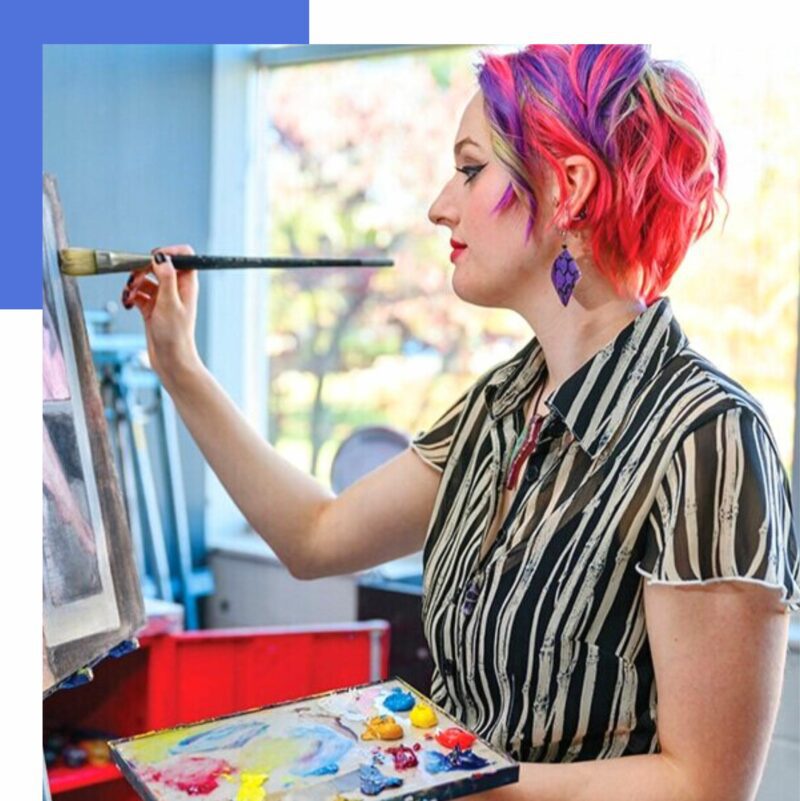 OUR HISTORY, OUR VOICES PROJECT
The Katrina Julianne Scott Exhibit
I was taught from a young age that women were meant to be quiet and pleasant, never loud or angry. When I reached college, I encountered men who took advantage of that mindset and of my naivety. I soon found other women who shared those experiences, and felt a similar sense of frustration towards the narrative expected of women.
As I explored that frustration, I realized that many women were never taught how to express anger, only mild frustration. In this project, I wanted to explore the nature of women's anger.
For many of us, it starts out timid and fearful, like the hare. That timidity bleeds into a feeling of uncertainty, like the alligator eyeing its attacker. Uncertainty makes way for fury as instincts kick in, just like the wolf lashing out in self-defense. Finally, a sense of calm washes back over, as the snake sheds her skin.
These paintings are a part of a series I completed last year as a URECA creative project grant through my school, MTSU. The project is now a part of my Honors senior thesis exhibition that I am presenting this semester in preparation to graduate!
My project was recently featured in the MTSU research magazine, and you can read all about it here:
Thank you for reading.
When in April of 2011 I lost my mother to breast cancer, I also lost my way. Perseverance and a never give up attitude is certainly something I learned from my Italian American upbringing as well as a love of writing, reading books and the arts. Navigating the grieving process, I turned to writing as a healing tool. I started simply. I would wake in the morning and read from a book that resonated with me.
I love everything to do with color. My art often embraces raw emotion, transformation, coming into one's power, and a balance between light and dark. I paint with acrylics and oils and play with alcohol inks. I started painting a year ago as I was struggling to find my identity after becoming a mom. It started as a creative outlet but become a way to find myself again.
I am inspired by everyday things, creative design, books, music, movies, growing things, and–most of all–people. People I know, people who lived long ago, and the people who now live only in my imagination, such as my grandparents or people I meet in books.