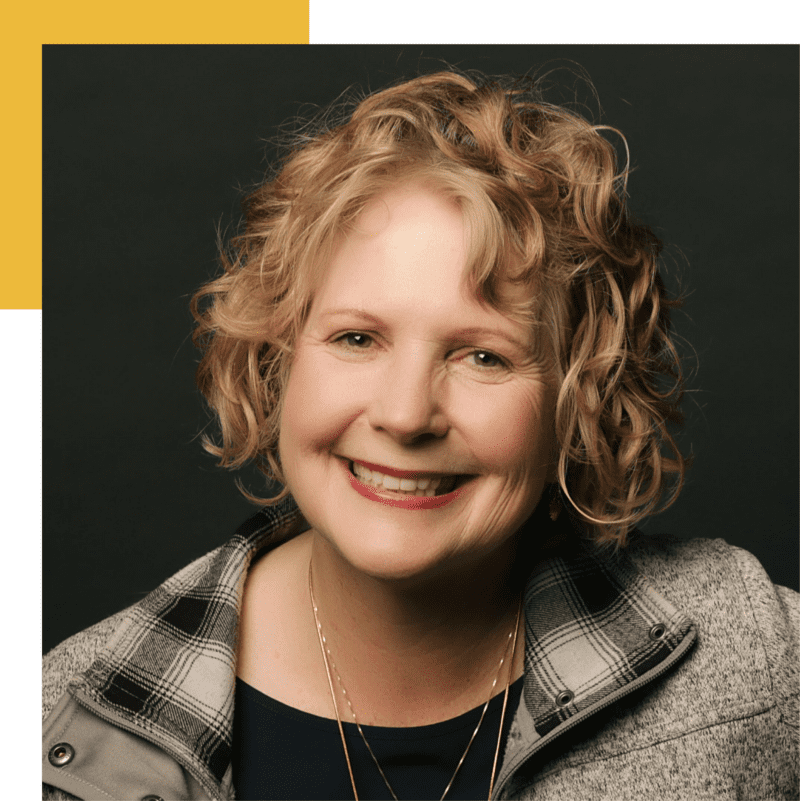 OUR HISTORY, OUR VOICES PROJECT
The Ruth Everhart Exhibit
*Trigger Warning – SA Content*
Authors usually choose what topic they're going to study, especially a topic that will consume their energy for years. But sometimes the reverse occurs. Sometimes the topic chooses the author.
I write about sexual abuse because I was the victim of a brutal assault that shattered my life when I was 20 years old. Since I believe that our lives are a gift from God, I spent years wrestling a gift from that traumatic experience.
Because I'm a writer, I've done my wrestling on the page.
THE #METOO RECKONING: Facing the Church's Complicity in Sexual Abuse and Misconduct
An excerpt from the book by Ruth Everhart
These paragraphs are from the foreword to my book: THE #METOO RECKONING: Facing the Church's Complicity in Sexual Abuse and Misconduct.
It was published by InterVarsity Press and named one of the "5 Best Religion Books of 2020" by Publishers Weekly.
I call on people of faith to embrace the reckoning of the #MeToo movement. We must recognize that God's presence strengthens each victim who finally feels empowered to tell the truth; that Jesus stands in sorrow with victims and in judgment with victimizers, especially those who refuse to confess their sin; and that the Spirit calls each of us to confess the ways we have normalized violence against the vulnerable. Now we are to lament, repent, and participate in a new vision of equality and justice.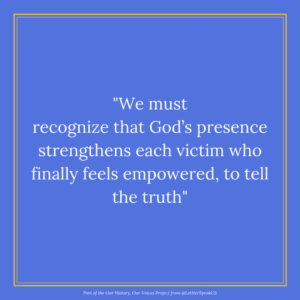 The church can listen to survivors' stories, study our Scripture for lessons on gender and abuse, and dare to apply what we learn to change church culture. We will unburden victims and survivors, removing the load of shame we have allowed to land on their shoulders, which has increased the evil done to them. We will hold predatory pastors and members accountable. We will make our churches both safer and braver.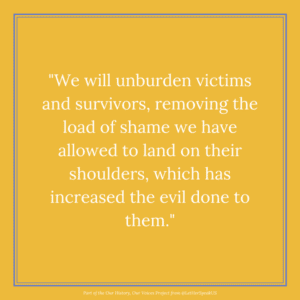 This reckoning will take a stout heart and strong stomach. And it will cost us. Exposing our dark past may cost our churches their reputations and cultural authority—if they have any left. But Jesus says, "Those who want to save their life will lose it, and those who lose their life for my sake, and for the sake of the gospel, will save it" (Mark 8:35). Churches may need to lose many things, even everything.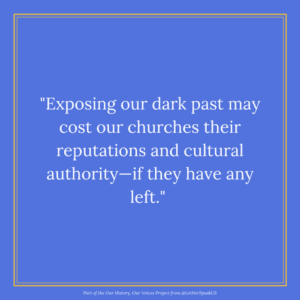 Let's hope that churches lose the right things: an addiction to cultural power and authority, a self-righteous clamp on the idol of sexual purity, an attachment to secrecy and silence as effective means of control. I pray that these things will wash away as the power of Jesus captures another generation.
As it always does. As it cannot not.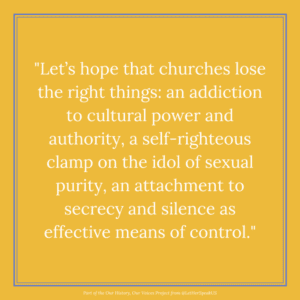 The Jesus we follow is like no other. His love changes everything. He is the divine one who came into this world via vagina. To Jesus, women's bodily experiences matter. To Jesus, all humans bear the image of God equally. To Jesus, the voices of victims crying out for justice is a beatitude sung by a chorus.
Stop and listen. Push past the fear. Unleash the energy. The Spirit is here.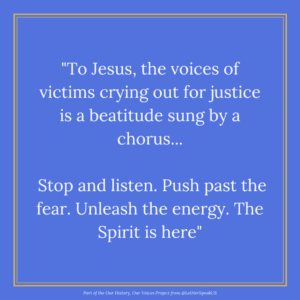 Connect with Ruth Everhart »
I write to understand my world. This poem is about my mother who died in April of 2019. There is so much I wish I would have asked her. She would be thrilled about my debut novel, "The Lockhart Women", which will be published in June of 2021 by She Writes Press. The novel is dedicated to my mother but is not about her at all.
This piece is titled "Fear of Him". It is about a time in my life when I kept quite about a series of situations in fear of what would happen if I spoke up. It is too common women are belittled by boys because boys think they can do anything they want. I think it is important to note that women are so much stronger than what society views us as.
When in April of 2011 I lost my mother to breast cancer, I also lost my way. Perseverance and a never give up attitude is certainly something I learned from my Italian American upbringing as well as a love of writing, reading books and the arts. Navigating the grieving process, I turned to writing as a healing tool. I started simply. I would wake in the morning and read from a book that resonated with me.